Estimated Price For Movement Service
How do I find my caliber number?
Please locate the "caliber number" on the back of your watch. The caliber number is the first four digits of the eight digit, hyphenated, number. In the example below, the caliber number is "7N01."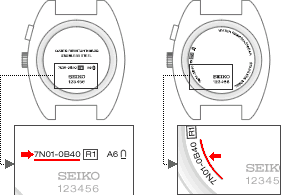 ---
What does the movement service include?
Complete service of the watch movement.*
Fix or replace necessary movement parts.
Replacement of gaskets and water resistance testing.**
Replacement of either battery, ion cell, or rechargeable battery (depending on quartz caliber).
Necessary lubrication.
Timing adjustments and accuracy testing to caliber specifications.
Cleaning of case and band.
*Please know that service for older, discontinued calibers may not be possible if movement parts are no longer available. Final determination will be made upon watchmaker inspection.
**Due to the condition of the case and discontinuation of gaskets for some older dive models, water resistance can not be guaranteed.
The following calibers and collections can not be serviced locally and must be sent to Japan for movement service:
1BXX
4SXX
5R86
7B24
7B25
7R87
9S25
9R86
9R96
9T82
S760
S770
S771

6SXX
6L35
All Credor models.
All Galante models.
Repair estimate for these calibers and collections will be communicated to you once we receive pricing information from Japan.
Estimated lead time is 5-8 weeks after estimate approval.
Additional shipping and customs charges will apply.
Guarantee
We offer a twelve month service guarantee for Seiko watches and a six month service guarantee for Pulsar watches. Should your watch fail within this period of time we will repair and/or replace any necessary parts to correct the fault as identified by our watchmakers. This guarantee does not cover normal wear and tear or damage caused by accident or neglect.